Euro Pallet Size
The Euro pallet dimensions are legally defined by European regulations (1). The EUR pallet, also known as the Euro pallet or EPAL pallet, is the standard European pallet defined by the European Pallet Association (EPAL) (1). Pallets that comply with the standardization (DIN EN 13626 and others) (5) are eligible for the European Pallet Pool (EPP) (6 ), the system that allows exchange (8) as "pallet for pallet" (7). Approximately 450-500 million EUR pallets are in circulation (9). Derivatives of the EPAL pallet meet specific needs such as retail use (10) or adaptation to standard American pallet dimensions (2) and facilitate multimodal international logistics for imports and exports (3) (4).
The size of the Euro pallet is 1,200 mm × 800 mm × 144 mm (47.2 in × 31.5 in × 5.7 in); it is a four-way pallet with 8 boards of wood nailed with 78 special nails in a prescribed pattern. The weight of a EUR/EPAL pallet (EPAL 1) is approximately 25 kg.
The four common Euro pallet sizes (besides ISO alternative sizes) are:
| Euro pallet type | Europallet dimensions (width x length) | Euro pallet dimensions (width x length) United States | ISO pallet alternative |
| --- | --- | --- | --- |
| EUR, 1 EUR | 800 mm × 1,200 mm | 31.50 in × 47.24 in | ISO1, same size as EUR |
| 2 EUR | 1.200 mm × 1,000 mm | 47.24 in × 39.37 in | ISO2 |
| 3 EUR | 1.000 mm × 1,200 mm | 39.37 in × 47.24 in | |
| 6 EUR | 800 mm × 600 mm | 31.50 in × 23.62 in | ISO0, half the size of EUR |
We called it a four-way pallet because it can be lifted and maneuvered four ways with a forklift.
The safe working load of a EUR/EPAL pallet is 1,500 kg. The maximum additional load during stacking can be up to 4,000 kg.
The EUR/EPAL pallet can weigh up to 3,300 lb (1,500 kg). (1.5 metric tons) with the same load, otherwise the limit is 1,000 kg (2,200 lb)
Other Euro pallet sizes
Derivatives of the EUR pallet have been developed for special applications.
The EUR pallet-also EUR-1 pallet-was followed by the EUR-2 pallet and the EUR-3 pallet, both of which are 1,200 mm × 1,000 mm (47 in × 39 in), which is close to the standard U.S. pallet type of 40 in × 48 in (1,016 mm × 1,219 mm)
For retail store use, the EUR-6 pallet is half the size of the EUR pallet at 600 mm × 800 mm (24 in × 31 in). ISO standards have also been published for these Euro pallet types.
To accommodate EUR pallets, there are derived intermodal containers that are about 5 cm wider – these are commonly known as "pallet-wide" containers
These containers have an internal width of 2,440 mm (96 in) for easy loading of two 1,200 mm (47 in) long pallets side by side – many ocean shipping providers in Europe allow these because overhangs on standard containers are sufficient to fit them into the usual interlocking spaces
In particular, the 45 ft (14 m) pallet width wide high-cube shortsea container has gained widespread acceptance as these containers can replace the 44 ft 10 in (13,670 mm) A-container swap bodies commonly used for truck transport in Europe
The EU has begun standardization for pallet-width containers in 2021 as part of the European Intermodal Loading Unit (EILU) initiative.
EUR-1 pallet
Measuring approximately 31 inches by 47.25 inches, the basic EUR pallet provides convenient four-way entry. 78 nails in a specific pattern secure the wood.
In addition, the wood species used must meet EPAL standards for strength, durability and mold protection.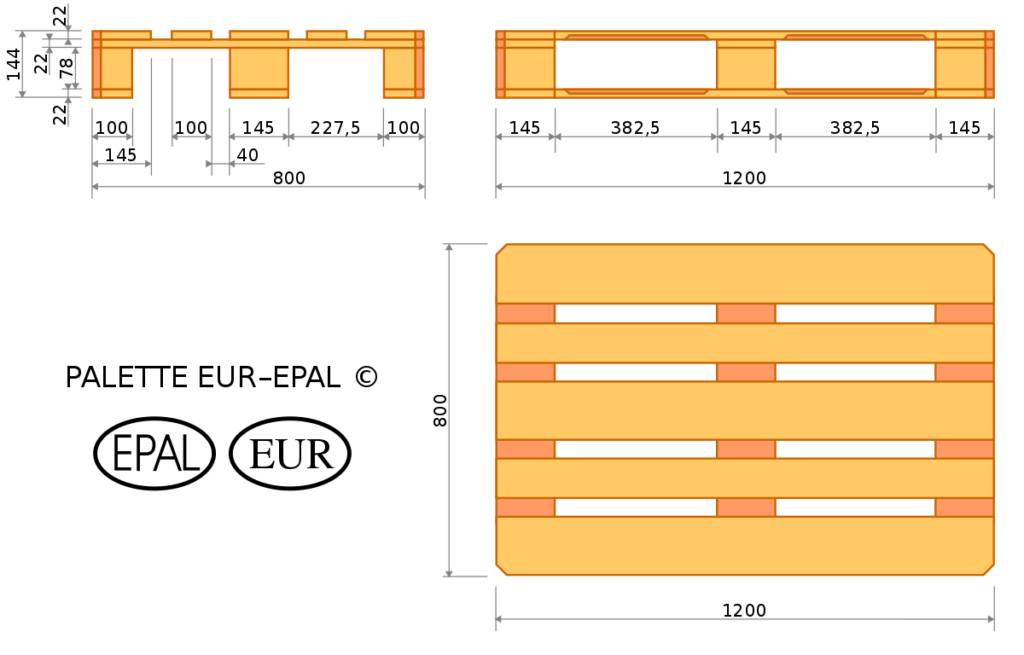 Because of their narrow width, EPAL pallets allow access through standard doors
Derivative warehouses, also known as pallet-wide containers, can accommodate EURO pallet dimensions.
EUR-2 and EUR-3 pallets
Two other popular EURO pallet sizes are closer to the standard American pallet size of 40 inches by 48 inches:
EPAL-2 industrial pallet: 1200 by 1000 mm
EPAL-3 industrial pallet: 1000 x 1200 mm
Globalization has led to the decline of the EUR/EPAL system, as EUR pallets do not fit well in ISO containers.
It is still the most widely used pallet type in the world, with an estimated 350 to 500 million EUR pallets in circulation
One of the advantages is that the 800 mm (31 in.) width fits through regular doors (the most common DIN door type is 850 x 2,000 mm [33 x 79 in.]).
How Many Boards Does a Euro Pallet Have?
A Euro pallet has eight boards. While the upper part of the Euro pallet consists of five cheek boards, which are the widest (145 mm) and the narrowest (100 mm), the lower part consists of only three boards (narrow, wide, narrow) with facets.
Comparison of standard sizes of pallets: length and width
Different industries built pallets however they saw fit, and almost everywhere there are several "standard" sizes.
The two most numerous today are the American Grocers Manufacturers' Association pallet of 40″x48″ (1016x1219mm) and the European 800x1200mm EUR 1.
In the United Kingdom, a metric approximation of the American pallet (1000x1200mm) was eventually designated EUR 2.
There is some underlying logic to these sizes. Euro pallets were designed to fit on trains and fit through doorways (the typical door is 850x2000mm).
Since America and the UK traditionally trade by sea, their standard pallets stack in ISO shipping containers with the least amount of space remaining – about 3-5% compared to 15% using EUR 1.
ISO and ECU authorities also recognize a EUR 3 standard. This has the same dimensions as EUR 2, but is designed in the other direction, with width and length reversed.
The EUR 3 often has a higher load capacity (1920 kg instead of 1470 kg)
The EUR 6 is half the size of the EUR 1 (800×600), and there is a 600×400 quarter pallet and so on.
There are efforts to introduce shipping containers matched to the EUR pallet, but numerous sizes will be around for a long time.
Euro pallet dimensions: influence of "four-way" Euro pallet on size regulations
Four-way Euro pallets consist of a handful of basic elements: Top deck boards, stringers or stringer boards and blocks, and bottom deck boards
In the case of stringer pallets, the stringers are notched to allow for fork insertion
These are referred to as partial four-way entry pallets.
If the pallet is constructed with blocks, it is called a true four-way entry pallet and can be accessed from both ends and both sides by both forklifts and a powered pallet jack
This allows the operator to maneuver within a distribution or storage situation more easily than a two-way pallet and provides better utilization during transport.
The lower deck of a four-way pallet is generally available in two different styles: either with a full perimeter base or with three boards at the base.
The latter are commonly referred to as foot pallets or leggings.
They provide great strength when required for heavy loads and are generally considered stronger than two-way pallets.
However, they are more difficult to repair than two-way pallets.
How Many Euro Pallets Can Fit In A 20′- or 40′-Container?
A 20'ft container can hold eleven Euro pallets in a row or nine to ten standard pallets in a row, while a 40′ container can hold 23-24 Euro pallets.
Regulations for the Standard Specifications for Euro Pallet Dimensions (Euro Pallet Dimensions)
EUR pallet dimensions are defined in the following standards:
ISO 445 Pallets for material handling – Vocabulary (ISO 445:2008)
ISO 3676 Packaging unit-loading unit-size-dimensions
ISO 3394 Dimensions of rigid rectangular packaging, transport packaging. Euro pallet dimensions
ISO 8611-1 Pallet for material handling

ISO 8611-1 Pallets for material handling – Flat pallets – Part 1: Test methods
ISO 8611-2 Pallets for material handling – Flat pallets – Part 2: Performance requirements and selection of tests

ISO 12776 Pallet skid plates
ISO 12777-1 Test method for pallet joints

ISO 12777-1 Test methods for pallet joints – Part 1: Determination of flexural strength of pallet nails, other dowel-type fasteners and staples
ISO 12777-2 Test methods for pallet connections – Part 2: Determination of pull-back and head pull-through resistance of pallet nails and staples
ISO 12777-3 Test methods for pallet joints – Part 3: Determination of strength of pallet joints

ISO 15629 Pallets for material handling – Quality of fasteners for the assembly of new and the repair of used flat wooden pallets
ISO 18334 Pallets for material handling-Quality of assembly of new wooden pallets
ISO 18613 Repair of flat wooden pallets
EN 13626 Packaging – Box pallets – General requirements and test methods
EN 13382 Flat pallets for material handling – Main dimensions
EN 13698-1 Specification for pallet production

EN 13698-1 Specification for pallet manufacture – Part 1: Design specification for 800 mm × 1,200 mm (31 in × 47 in) flat pallets of wood
EN 13698-2 Specification for pallet production – Part 2: Design specification for 1,000 mm × 1,200 mm (39 in × 47 in) flat wooden pallets

EN 15512 Steel static racking systems – Adjustable pallet racking systems – Principles for structural design
EN 15620 Steel static racking systems – Adjustable pallet racking systems – Tolerances, deformations and clearances